There are jobs – and then there are careers. The chances to do the kind of works that adds up to something meaningful. The opportunity to challenge yourself and learn new skills.
Surrounded by youthful, ambitious, enthusiasts. motivated people, day-in and day-out. That's the kind of work you can expect to do at Glocal.
Sounds Appealing?
Come Join Us, here's the gateway!
Apply by June 15, 2022 by sending your CV, Cover Letter, and academic and skill-based certificates.
Business Unit Head – Hospitality School
Business Unit Head (reporting to ED)
Salary: 35000 to 45000 Monthly
– Looking for Enterprising Candidates or aspiring to build a business in Hospitality training & Education.
Roles & Responsibilities :
The ideal candidate should have prior background and experience of Hotel Industry, specially training and development and Management of Hotel or Educational institution over at least 1-3 years.
We are looking for a collaborative and hands-on leader to guide essential change efforts and operationalize important People Team and growth programs.
The role will fully own all aspects P&L of the company including revenue growth, business development, operational excellence, technology, finance, and human resources.
Be co-opted on to Company's Management and Planning Team and advise on potential areas for programmes growth and development, as well as policies, resources and implementation across the School.
Lead on quality issues, liaising with the programme teachers/trainers in their subject areas;
Contribute to the development in approaches to learning and teaching within the School
This role is expected to be a role model, change agent and thought-leader for the entire business unit and the whole company.
The candidate will acquire a deep knowledge of the business landscape and evaluate risks and opportunities and contribute to the strategy to induce best-suited methods, drive innovative adoption within the organization and study changing customer requirements and competition to develop strategies to succeed in markets.
Lead the Operations and have an executive overview of business management.
Principal Duties and Responsibilities:
Teaching and learning support
Lead the development and clarification of academic standards for the subject area.
Contribute to the development of academic policies across the Institution.
Ensure that the development of programmes is within the Institution's overall framework e.g. for the validation and revalidation of courses and assessment.
Encourage the development of diverse and effective approaches to course delivery and ensure that teaching delivery achieves the educational standards of the department.
Communication
Be routinely involved in complex and important negotiations internally and with external bodies.
Lead and develop internal and external networks to foster collaboration and share information and ideas and to promote the subject and the Institution.
Promote and market the work of the department in the relevant fields, both nationally and internationally.
Managing people
Exercise academic leadership for all subject area teaching
Appraise and review staff on personal and career development plans.
Participate in the planning, development, implementation and evaluation of Institutional and School strategic plans.
Promote a collegiate approach and develop team spirit and team coherence.
Foster inter-disciplinary team working.
Responsible for the initial resolution of all student issues within and outwith standard procedures.
Initiative, problem-solving and decision-making
Maintain academic standards within own area(s) of responsibility.
Contribute to the determination of the academic standards framework at either the School and/or at Corporate Level.
Determine the final allocation of resources within own area of responsibility.
Advise and contribute to the strategic decisions at Institutional level.
Advise and contribute to the lead development of diverse and effective approaches in responding to teaching and learning challenges.
Provide advice to external bodies where required.
Balance the pressures of teaching, research, enterprise and administrative demands and competing deadlines.
Experience :
Minimum 1-3 years of experience, with education/hospitality industry, entrepreneurial candidates are best suited for this role.
Experience managing educational/hospitality organizations leveraging lean methodologies.
A demonstrated ability to build consensus among many stakeholders.
Highly passionate for building business.
Proven experience in a similar capacity or relevant role
Demonstrable competency in strategic planning & management
Strong Team with Visionary leadership
Positive, energetic, passionate, business environment with management who committed to your success.
Course Curator - eLearning
(Reporting to Associate Director)
Salary: 30000 to 40000 Monthly
– Looking for someone with the interest in changing traditional way of teaching with practical and instrumental knowledge development.
We are seeking an Online Course Curator on any subject related with the development of Skills. The primary duties for the position include research, instructional design, course development & monitoring.
Deliverables
Develop, Design and Launch an online course
Provide testing and facilitation mechanisms
Develop a monitoring system to keep track of participant engagement and completion rates
Work with the trainers in developing and implementing courses.
Roles and Responsibilities
Research and analysis of market regarding the demand of skills
Develop a schedule for course development
Design the courses as per the demand
Assist in designing courses to the online gurus
Determine overall strategies for content delivery, instructional activities, and assessment
Complete detailed course map that identifies all components to each module: existing content, content to be produced, assignments, assessment activities
Develop explanation of how the course "works," communication expectations & guidelines, and ways to get help
Submit report on course map, including weekly topics, objectives and schedule for major course assignments
Monitoring and evaluation of the online courses
Essential and Relevant Experience for the position:
University degree in social sciences/ education or relevant discipline with 2-3 years of working experience in the field of education development
Should have the proper research and analyzing skills
Proven experience in the field of youth and development
Youth-friendly and has non-discriminatory attitudes towards working with young people
Strong writing skills with ability to present in a style that is accessible to readers
Proficiency both in English and Nepali – Speaking & Writing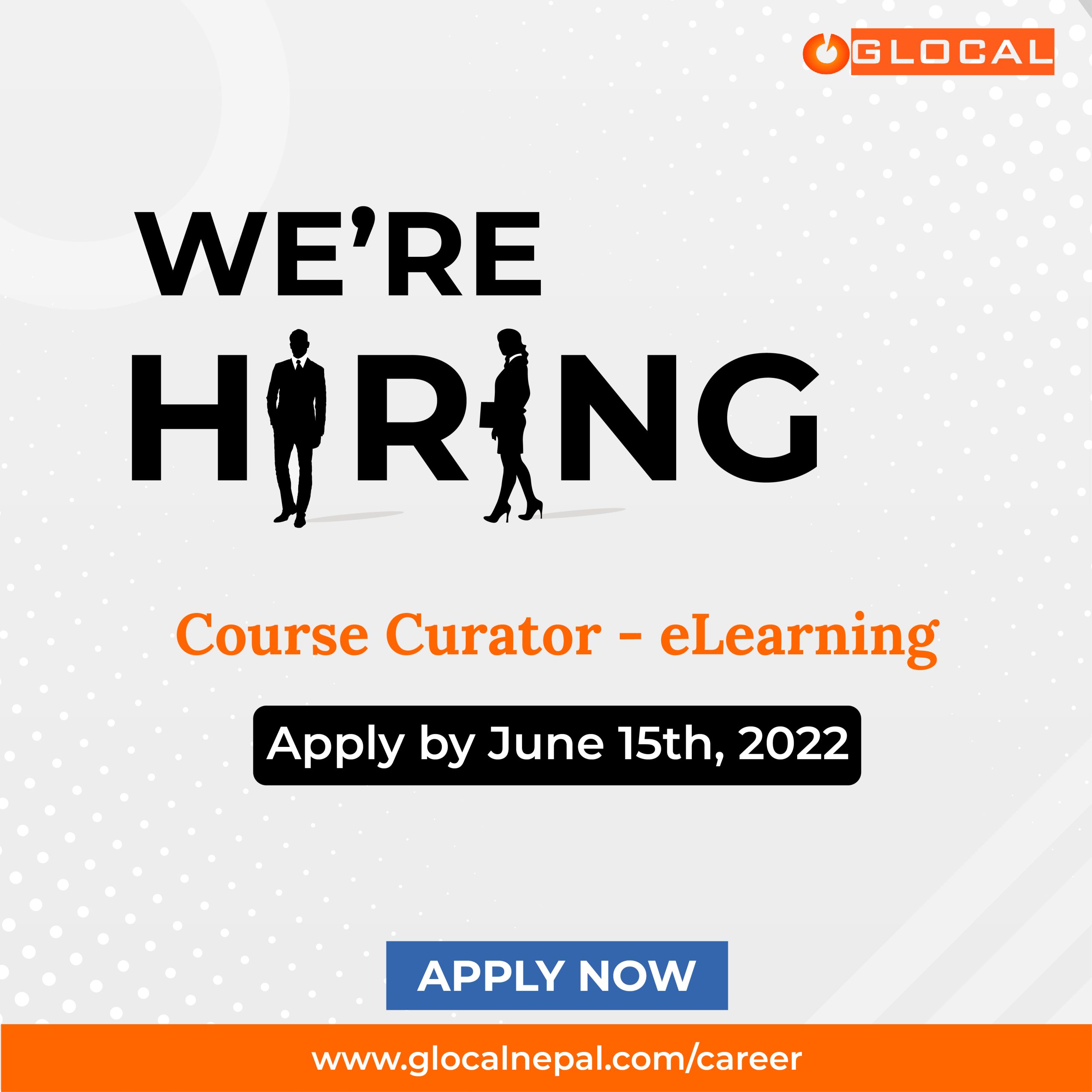 Apply by June 15, 2022 by sending your CV, Cover Letter, and academic and skill-based certificates.
Apply by June 15, 2022 by sending your CV, Cover Letter, and academic and skill-based certificates.
(Reporting to Brand Manager)
Salary: 20000 to 30000 Monthly
Roles and Responsibilities:
Research current trends and audience preferences
Design and implement social media strategy
Monitor social media and web analytics
Handle social media channels
Work for the increment of engagement for the social pages of the company, Facebook, Instagram, TikTok, Twitter & LinkedIn.
Skills Required
Knowledge of major Social media channels
Knowledge of Using popular CMS
Excellent copywriting skills
Ability to deliver creative content (text, image and video)
Knowledge of SEO, keyword research and Google Analytics
Knowledge of online marketing channels
Excellent communication skills
Analytical skills
Experience in working for the engagement of organizational social media pages with proven record.