There are jobs – and then there are careers. The chances to do the kind of works that adds up to something meaningful. The opportunity to challenge yourself and learn new skills.
Surrounded by youthful, ambitious, enthusiasts. motivated people, day-in and day-out. That's the kind of work you can expect to do at Glocal.
Sounds Appealing?
Come Join Us, here's the gateway!
Paid Internship for the project- Skill Week 2021
Glocal Pvt. Ltd. is seeking an energetic & dedicated intern for the event Skill Week 2021. The primary duties for the position include assisting to the core team for Skill Week Promotions, Management, Operations, Content Writing, and Effective Communications.
Requirements for the Internship
Undergraduate in any stream.
Excellent verbal and written communication skills.
Extensive knowledge of social media.
Self- driven and hard-working.
Ability to take direction and multi-tasking.
PowerPoint, Word and Excel experience a plus.
Research and Analyzing Skills.
Job Responsibilities:
Provide assistance in general operations for the project.
Content Writings as directed.
Lead and coordinate volunteers of the project.
Respect the diversified working people and environment.
Benefits:
Internship Remuneration with Certificate.
Develop skills in a real work environment by practically applying the skills.
Possibility of getting employed right after the internship period.
Gain valuable experience working in a corporate environment; learn about some of the exciting work and projects that exist within the organization.
Participate in development and learning opportunities offered throughout your intern program.
Connection with potential employment opportunities.
Exposure to a fast-paced, collaborative office environment.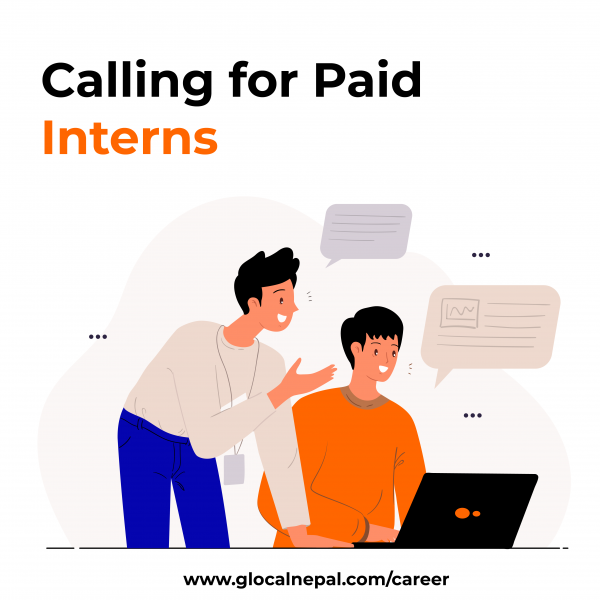 Please email your CV and cover letter at
career@glocalnepal.com
Deadline : February 4, 2021