The Year 2077: Enhancing Opportunities & Possibilities
The year 2077 was full of ups and downs. But along the same line, it was also a year of self-reflection, self-understanding, learning more, and getting to know various other things such as different skill sets, different online & offline courses, events, and spending enough time gaining more knowledge & skills. For many of us, it has been a transitory experience; as we are taking our life back to normal with lots of changeful input.
We at Glocal marked this year for more achievements and milestones. Besides pandemic, we believed we can stand out to help people in developing their skills and capabilities through online platforms and we made it with our amazing team members, helping hands, and generous supporters.
The Rise of Blended Online Learning
Education has always been a very important part of people's lives as it helps for knowledge and eventually in life functions. In different parts of the world, we're already in the mode of Online Education or we better say Blended Learning. The world today is moving toward online learning. The pandemic situation has made a validation for online learning to be enhanced for better education. Today the combination of the internet and education provides us with the opportunity to gain new skills. Online learning plays a part in helping us in learning new skills; gaining valuable qualifications and work more effectively.
Today is the time to grab the utmost advantage of online learning. Online learning makes it simple and convenient to keep building vital skills for your future. The opportunities available for personal and professional development are nearly endless. The demand for skilled learner training is also on the rise because this is the best utilization of time and to be connected with skilled people.
This year we managed to reach more people nationally and internationally through online platforms. We diverged more towards the digital world and stepped forward towards Building Online Learning Community through the project Glocal After School (GAS). We started with a mission to equip aspiring individuals with skills and a strong determination to lead the change towards skilled Nepal.
We paved our way towards skill development and coping with the challenges of navigating through uncertainty due to pandemics. Apart from this, we successfully organized various online & offline events, sessions, online and offline courses on employability and professional skills, and competitions to develop young minds.
Signature Project- GTH & GITC
The pandemic has upturned the lives of teenagers; it has been hard on teenagers, but they have shown remarkable adaptation. They are becoming more independent and taking steps towards their future. During a pandemic, teenagers have shown their ability and have proved they can be change-makers through their amazing works.
To bring out the innovative teenagers from different corners of the nation; we have organized the 6th Edition of Wai Wai Glocal Teen Hero 2020 (a platform for teenagers to share their initiation, creativity, and enthusiasm which will then motivate them and more of the other teenagers in the nation to develop entrepreneurial thinking). This year we successfully reached 200+ schools through online activation around the nation and interacted with 10,000+ teenagers.
For the year 2020; Three teenagers have been recognized virtually from Nepal, India, and Srilanka for their great contribution. The winners are; Mr. Vivaan Kabir is a 17 years old Youth Activist from Mumbai who has been awarded the title of "Wai Wai Glocal Teen Hero India 2020". Similarly, Ms. Menuri Sachintha Kodikara is a 16 years old activist from Sri Lanka, the first-ever Glocal Teen Hero Sri Lanka Awardee for 2020. Likewise, Ms. Mandira Shrestha is a 19- year-old Health Activist from Ramechhap was announced as a Winner of Wai Wai Glocal Teen Hero Nepal, 2020.
Along with this, to present the teenager's insights & knowledge on global issues to solve local issues; we have successfully conducted the fourth edition of Wai Wai Presents Glocal International Teen Conference triumphed with a representation of teenagers from Nepal, India, Pakistan, Bangladesh, Afghanistan, USA, Vietnam, and Sri-Lanka. Having said this, we got active participation from 9 countries through the Glocal International Teen Conference. We were able to reach teenagers from Nepal via Online Platforms sharing the inspiring stories of amazing teenagers and encouraged them to step out of their comfort zone and showcase their abilities and initiations.
These amazing platforms are slowly inching towards the South Asian Region for recognizing amazing teenagers. Thus, today's teenagers are tomorrow's builders, and what potential skills and initiation they carry are recognized here in the platform of the Glocal Teen Hero & Glocal International Teen Conference.
Skill Week- Week Dedicated to Skill Development and Promotions
Skill has always been a very important part of people's lives as it helps from knowledge-based to experience-based and eventually in life functions. New skills give you new opportunities. It builds your confidence and gives you a sense of achievement. In this frequently changing world, you need to have an agile mindset and change accordingly.
Considering these things, Glocal After School organized the 2nd Edition of Skill Week – a week-long skills development program for youngsters to broaden their insights and skills in various fields. We celebrated skills and skill education in the presence of Guest of Honor Mr. Sonam Wangchuk, Engineer turned Education Reformer. His words provided a valuable notation to the program on skilling and development.
Skill Heroes- An Amazing Contribution in Skill Development & Promotions
Skills are important and the recognition of Skills truly adds the values in life. A skillful individual gets the honor for their work & Skills makes an individual stand out in their personal and professional journey.
We started an amazing journey to honor individuals and highlight each individual's skills to a global audience. On the occasion of the Closing Ceremony of Skill Week 2021, our personalities from four different industries who have 'achieved success by utilizing their skills' were honored for their contribution;
For the first pillar i.e. Tourism and Hospitality, Mr. Gagan Pradhan, MD at Himalayan Java was honored as Nabil Skill Hero as he has been an influential figure who has made a mark in the industry and played an integral role in the establishment of the coffee shop industry here in Nepal.
Likewise, Kutumba, a folk instrumental ensemble committed to the research, preservation, and celebration of the diversity that exists in indigenous Nepali music, was honored for their contribution in the field of Art and Culture.
In the Entrepreneurship category, Ms. Shanti Chadha, Founder President of Federation of Women Entrepreneurs Association of Nepal was awarded who has impacted thousands of women and families through skill development and economic empowerment initiatives through her personal efforts, her businesses, and her affiliation with several organizations.
And for the Science and Technology, Mr. Pavitra Bahadur Gautam, Co-Founder and CEO of Karkhana was honored for his efforts to provide a platform that can connect real-life and classroom using maker-based education to create critical learners for the 21st century & impact education the same way.
CEO Unplugged-  An Opportunity to Learn, Network & Share Entrepreneurial Ideas
We organized the 6th Edition of CEO Unplugged 2021, a yearly forum where the top CEOs of Nepal come together to share their insights and experience, encouraging the young minds to understand the need, demand and put effort into fulfilling the gap with creative minds and initiating ventures. Therefore, the event moves with the motto "Today Meets Tomorrow".
There were two-panel discussions, and each discussion had a different exposure to the Skill Ecosystem in Nepal. CEO Unplugged's first panel conversed on the topic of 'Workforce Upskilling & Reskilling'. The discussion focused on the importance of youth upskilling and reskilling initiatives to enhance employee engagement and retention, recruit new talent, improve departmental coordination, and accelerate the adoption of new trends in any sector.
Similarly, the second-panel discussion was on the topic- "Skills for the Post-Pandemic World". The discussion highlighted the need for Nepal's skills policy landscape to address new trends to develop future skills, improve employability, encourage good work, learn and socialize in the post-pandemic world.
Infographics – Data Stories
This year we succeeded in collaborating with 22 different partners/organizations in terms of organizing meaningful events, sessions, training, and projects. In a year, we have conducted 10 offline events and 74 online events through which we were able to reach 21,000 + youths equipping them with skills essential for career initiation and growth.
With the support of our partners, collaborators, supporters, trainers, learners, participants, and well-wishers we have been able to initiate and organize various online and offline events during this situation as well. This year we have been able to build contacts and public/ professional relations with 94% and able to announce and conduct various projects and programs as per the increment of the client by 72%.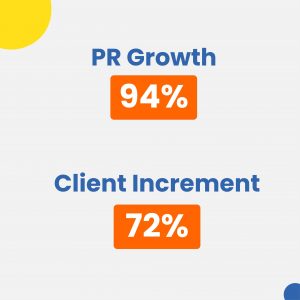 Overcoming the challenges and enhancing ourselves with allegiance, we thrive in spreading our wings and reach out to more aspiring individuals across every nook and corner of Nepal. We celebrated our amazing one-year journey in bridging skill gaps, highlighting each individual's unique skills, we made an effort to showcase teenagers abilities & initiations and also recognizing amazing teenager's to a global audience through the power of digital expertise.
We are relentless in our pursuit and will continue to make new stereotypes!